Dear Shonda Rhimes,
I know we don't know each other or anything but I just wanted to take a moment this Valentine's Day to say, "I love you." Don't worry, it's not "like that." I'm already taken, which is actually kinda thanks to you too. But I digress. The point is, your work creating complex, vivid characters that affirm various parts of my identity has significantly impacted my life, and I can't thank you enough. Simply put, you're awesome.
For the Love of the Grey: Coming Out as Bisexual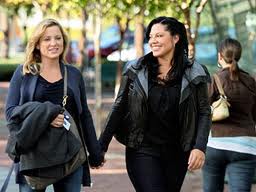 I remember the first episode of Grey's Anatomy that I ever watched. I was laying on my friend's dorm loft bed squinting to make out the faces on her small square TV (these were the days before everyone had a flat screen). We created a community around that show; we each saw ourselves reflected in that groundbreaking, truly diverse cast; people of color that weren't stereotypes, but real complex human beings we could all relate to. 8 years later, I'm still watching, and still ever thankful. But mostly I want to thank you for Callie Torres.
When Callie first appeared on the show, I remember that my friends and I were all a little confused (or perhaps made jealous) by her pairing with George. Naturally, she stole our hearts from the very beginning; she was this beautiful, smart, voluptuous Latina and she didn't take shit from all the little white girls bitching at her about stealing their friend (I'm looking at you Meredith and Izzy).
A few seasons later something amazing happened. Callie had sex with her co-worker and friend who was a woman! While, her partner had an "aha, I'm a lesbian" moment, Callie was confused. Imagine that! A queer person who is not instantly 100% sure of their sexuality (note sarcasm).
So time goes on and Callie starts dating another woman, Arizona, who is basically the best ever. But they break up and while broken up Callie gets pregnant from sleeping with her best friend Mark. And guess what happens? Callie and Arizona get back together, marry and ALL 3 PARENTS RAISE THE BABY TOGETHER! (OMG! Shonda, why are you the BEST!?!!?!!)
[pullquote3 align="center" variation="purple" textColor="#000000″]I love–and celebrate–you, today, and always, for giving me Callie, a queer woman of color to look up to, an interracial same-sex relationship to imagine myself in, and a queer family that mirrors my own hopes for a community of people to raise children with.[/pullquote3]
Multiracial Characters (Who Actually Talk about Race)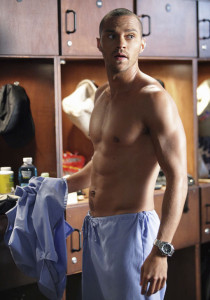 As if you hadn't done enough for me–I mean, everyone,you gave us the most beautiful male specimen of a man (this is not an exaggeration). Avery's multiracial identity wasn't erased under universality or caricatured as "confused" (as multiracial people are often discussed) but critically and sensitively explored as a theme in his life; he was a perfectly normal (super hot) doctor with a rich, famous white grandfather and a successful black doctor for a mother.
And finally, when interracial adoption comes up in the show, THE CHARACTERS ACTUALLY TALK ABOUT RACE! Bailey telling Derrick "You are white, your daughter is black, fix your baby's hair!" made me so happy, I could cry. As a bisexual, biracial woman, I loved it so much I had to write about it on my blog.
The Scandal of Primetime: A Black Woman as a Lead Character
I was a huge fan of Grey's Anatomy, but it's not the only show you've created amazing characters for: you've continually affirmed us all via Private Practice and, of course, everyone's new favorite drama, Scandal. 
The fact that a black woman is the MAIN CHARACTER of any Primetime drama is enough for me to give it praise; with so few people of color as lead characters, I'd become accustomed to accepting the scraps thrown to audiences of my demographic, usually in the form of the famous women of color "friend" character. But since you've created Olivia Pope, placed her front and center on this riveting new show that has gotten people talking every- single – week, POW! You've normalized people of color as main characters on mainstream television.
Now, we all get to see ourselves reflected as powerful, flawed, and complex as we are. If that isn't the biggest kind of love you can show to your community, affirm through your characters that we are normal human beings, I don't know what is.
An LGBT Ally Who Walks (and Writes) the Talk
I know I've been going on and on about how much I love you for your TV shows. But, I really do love you because of how you responded to one twitter follower's question:
"I love your shows but why all the gay and lesbian storylines?"
You could have ignored this tweet, or responded in 140 characters — something sweet, something PC, something safe. But, instead, you seized the opportunity to make a statement, but responding to the tweet with a link to a very thoughtful response, explaining:
"Because I believe everyone should get to see themselves reflected on TV. EVERYONE. And because I love all my gay and lesbian friends… As long as we are willing to sit by while one person is not free, none of us are free."
*Sniffle*. Oh, Shonda. Thank you for being an ally in what you say AND what you do. Thank you, Shonda, for letting me see myself on TV through Callie, Avery, and all the dynamic women characters that don't show up anywhere else on television. Thank you, so much, for being you.
Happy Valentines Day.
Lot's of Love,
Breanne