Recently, the Equal Employment Opportunity Commission (EEOC) ruled that gender identity discrimination is prohibited under Title VII of the Civil Rights Act of 1964.
To put it simply, Title VII makes it illegal for employers to discriminate against employees based on religion, race, color, sex, or national origin. The EEOC concluded that discrimination against trans individuals falls under sex discrimination, and is therefore prohibited. This is good news for transgender people of color, especially. Here's why.
What This Means for Trans People of Color
In a study, the National Center for Transgender Equality and the National Gay and Lesbian Task Force found that trans people are highly vulnerable to employment discrimination. The study revealed that "People of color in general fare worse than white participants across the board, with African American transgender respondents faring far worse than all others in most areas examined." Trans people reported double the average rate of unemployment, and trans people of color reported four times the average rate. Participants also reported high rates of harassment at work, with 15% of Black participants reporting that they had been physically assaulted at work.
Clearly, the EEOC's decision is of singular importance, providing transgender people of all backgrounds the option of presenting their claims of discrimination to the EEOC. But as transgender people of color are a particularly vulnerable population when it comes to workplace discrimination, there's reason for communities of color to celebrate.
ENDA and GENDA Provide State-Level Protections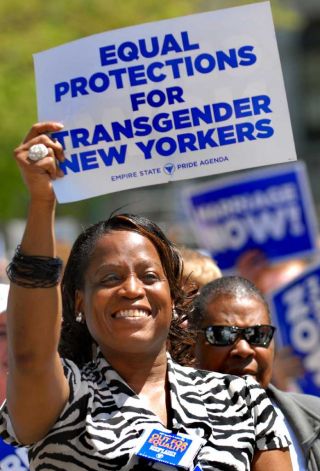 Incidentally, some worry that the decision could be overturned in the Supreme Court, making the push for more legislation like the Employment Non-Discrimination Act (ENDA) and the Gender Expression Non-Discrimination Act (GENDA), both which provide state-wide level protections based from workplace discrimination based on gender expression and identity, even more crucial to the LGBT community.
Representative Barney Frank has said, "I still want to see a transgender-inclusive ENDA because [the EEOC ruling] could be overturned in court. That'll be challenged, and they could take it back. On the other hand, it does mean, for now, transgender workers are more protected than gay, lesbian and bisexual workers. But we still need the bill."
ENDA, a federal bill that would prohibit employment discrimination on the basis of sexual orientation or gender identity, was last discussed in Congress in 2009 and has not been discussed since. GENDA is a similar New York bill that would prohibit discrimination against transgender and gender non-conforming people in many areas, including housing and employment. GENDA has failed to pass four times, but many are working to get GENDA passed this year. So far, the bill has passed in the Assembly, but it may not pass in the Senate.
Empire State Pride Agenda, a New York LGBT rights organization, is one group currently working to get GENDA passed. It is responsible for the TRANScribe Project, a different approach to gaining support for trans rights. This project allows trans people to share their stories for the purposes of education and activism. The Pride Agenda encourages trans individuals, as well as friends, family, and allies, to contribute their stories in the hopes of effecting change.
From Stories to Policy: The Power of LGBT People of Color Media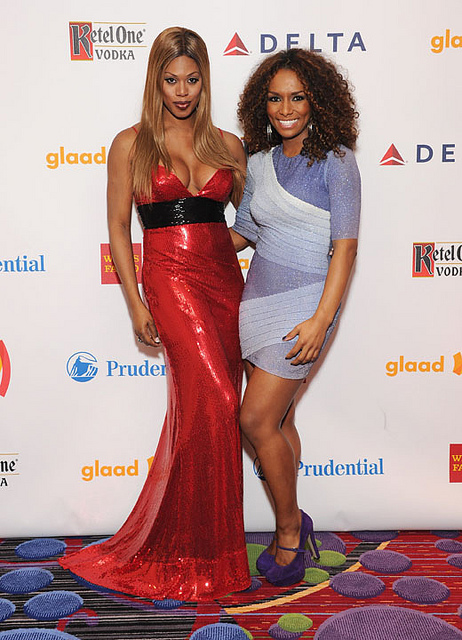 Here, it is of great importance that trans and gender non-conforming women of color are able to share their stories as their voices often go unheard, leading to policy that does not take their experiences into account. Hence, legal advocacy organizations would do well to engage LGBT POC media organizations such as Queer Women of Color Media Arts Project (QWOCMAP), Queer Women of Color Media Wire (QWOC Wire), Elixher, and others, in the amplification of these stories. Incidentally, organizations like the Gay and Lesbian Advocates Against Media Defamation (GLAAD) and Massachussetts Transgender Political Coalition (MTPC) who have recently partnered on media advocacy campaigns featuring strong voices from trans women like Janet Mock and Laverne Cox could lend their influence to proponents of LGBT-friendly legislation that's intersectional in its protections.
For instance, GENDA is of particular importance for trans people of color because it goes beyond employment discrimination to housing discrimination. Early this year, the U.S. Department of Housing and Urban Development announced guidelines that prohibit discrimination based on gender identity or sexual orientation in federally funding housing. Trans people, however, and especially trans people of color, remain vulnerable to housing discrimination from the private sector. In response to the National Transgender Discrimination Survey, 41% of Black participants reported having experienced homelessness. 38% reported having been denied housing, and 31% were evicted because of their gender identity. GENDA would help to correct these wrongs done to trans people of people.
ENDA passed on the state level, in 2009 in Massachusetts. On the national level, it has the support of President Obama, but without bipartisan support of the bill is unlikely to pass. Republican National Committee Chair Reince Priebus did say in an interview with NBC that he supports anti-discrimination measures for gay and lesbian workers. However, the bill faces strong opposition, with campaigns such as Fight ENDA arguing that the legislation would infringe on religious freedom.
The Road Ahead: Media and Legal Advocacy
With the recent ruling of the EEOC, the prospects of GENDA and ENDA may be more hopeful. The ruling signals a step forward in trans rights, and it holds promise for legislation protecting LGB people from employment discrimination. It also gives hope that more injustices against trans people of color will be rectified. What remains to be seen are closer collaborations between legal and media advocacy efforts to ensure that the right voices continue to inform the direction of progress.