So, it's late, and you want to watch TV, but you don't have 48 minutes left in you to watch online television because you finally might be able to fall asleep soon. What do you do?
Watch The Slope, a comedy that follows the lives of a lesbian couple navigating their way through modern-day Park Slope, Brooklyn. One year into their relationship, Ingrid and Desiree continue to hash out a power dynamic that ends up making them look homophobic, superficial and ultimately, perfect for one another.
Desiree Akhavan is an Iranian filmmaker, and a pretty funny (and brilliant) queer woman of color. She and Ingrid Jungermann made a short, fun, smart web series that is an intense parody about being lesbians and living in Park Slope in Brooklyn. (For real though).
All of the episodes are under ten minutes, and average somewhere around 4 minutes.
In the show, Desiree identifies as bisexual and Ingrid, a lesbian. Sometimes, the lines of Desiree's sexuality blur, and it gets really funny, and a little politically incorrect. (Now, before you get all revved up, remember, DISCUSSION IS ONE WAY TO BREAK DOWN STEREOTYPES). The show's subversiveness is a beautiful thing.
Episodes address all of the good stuff: homophobic stereotypes, tops and bottoms, bisexuality, authenticity, homosexuality, queerness, and most importantly, all of the hilarious and funny stuff that goes with being in a (queer) relationship.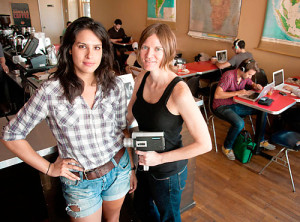 This funny web series actually almost came and almost went in one season; the financial strain that came with producing the show became burdensome, and so Ingrid and Desiree financed the second season using Kick Starter.
They're still raising money for the series. So, if you decide to watch The Slope — and you like it, or just believe in supporting more marginalized LGBTQ folk who are not only writing, but directing and acting in the media that they produce — can donate here. 
And if that isn't enough to get you to login to paypal, you should know that they've also got a husky — with two differently colored eyes — in the show.
In the second season, this lovely dog introduces us to each and every episode. He's something of The Slope mascot. In fact, you'll probably like him more than Desiree and Ingrid did in the first episode of the show. (In fact, I guarantee it). I know I did.
For more information about The Slope, check out their official website www.theslowshow.com, or visit The Slope on Vimeo.