Around the second week of February, I'm one of those people that goes, "Oh, crap! Valentine's Day is coming up. Uhhh…" and then I rack my brain trying to figure out something romantic for my partner and I to do together. After being in a relationship for 5 years, neither of us are diligent about planning anything.
So now, instead of panicking, I simply ask my partner what she would like us to do (after watching "The Vagina Monologues" for the umpteenth time, of course). Incidentally, I love to cook, and my partner loves my cooking, so she usually just asks me to make something special for dinner. But I do that most nights of the week, already. So, this year, I decided to do a dessert.
When I was trying to decide what recipe to suggest for Valentine's Day, my first instinct was "chocolate." It made sense, after all: Valentine's Day… love… romance… – 'tis the chocolatey season. And it's easy to get sexy with chocolate, 'cause chocolate itself is sexy. So this year for Valentine's Day, the recipe I'm going with involves chocolate, bondage restraints, whipped cream, honey, and sticky balls. What more could you want? The actual recipe?
You're welcome.
[divider]
Love and Honey/Amor y Miel: A Queer Brown Love Valentine's Day Dessert Recipe
Note: This short recipe below is a backup for queer women of color who are more interested in the dessert, than the dessert ;). It actually does not involve actual cooking; it's simple, yet tasty and sensual.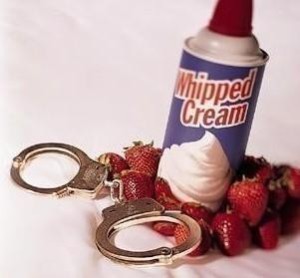 RECIPE: Queer Brown Dessert for Beginners 
Ingredients
1 can whipped cream
1 bottle chocolate sauce*
1 roll of duct tape/bondage tape
Procedure
None really. Mix? Swirl? Lick? Use your imagination 😉
*I would recommend something other than Hershey's – I mean, it's Valentine's Day, people; make it special. Hell, melt some chocolate, even. Unless Hershey's is your favorite, then by all means, go crazy!
RECIPE: Queer Brown Dessert for Seasoned Lovers!
Next, or instead, if you want to do a bit more cooking, and you're tired of chocolate (because, let's face it, chocolate on Valentine's Day is a bit cliché. I mean, I love chocolate as much as the next person, but February is a bit oversaturated with it), then try the following recipe.
While chocolate is considered an aphrodisiac, so are many other foods. Since this is a post for sweethearts, I chose a recipe with honey. Honey has vitamins and minerals that aid in the production of both testosterone and estrogen – something for everyone, as opposed to some other aphrodisiac foods that really only help the menfolk/people with high levels of testosterone. This recipe should really be consumed right after its made, so it can be a team effort. Plus, the sexytimes can begin even before you finish cooking. (Hint: Everyone can have some fun with the warm, sticky syrup.)
Sticky Honeypot (AKA Loukoumades, Greek doughnuts, with Lemon Honey Syrup) (adapted from Pam Kanavos' recipe on Honest Cooking)
Ingredients
For the dough:
1 pkg. (1/4 oz) active dry yeast
1 tsp sugar
2 cups lukewarm water, divided (1/4 cup and 1 ¾ cup)
4 cups all-purpose flour
2 tbs. baking powder
1 tbs. honey
1 tsp. salt
2 cups canola or corn oil
Ground cinnamon and walnuts (optional)
For the syrup:
1 1/2 cups honey
1/2 cup water
1/4 cup fresh lemon juice (juice from about one lemon)
grated lemon zest from one lemon
Procedure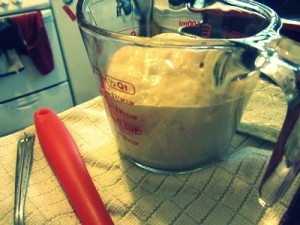 1. Dissolve yeast in ¼ cup water, stir in sugar. Allow to rest for 10 minutes, until doubles in size.
2. In a medium to large mixing bowl, add the flour, baking powder, and honey.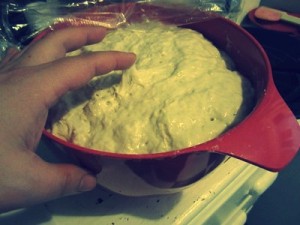 3. Combine the yeast and remaining 1 ¾ cup water. Slowly add the yeast and water to dry ingredients. Add salt and mix well to combine, using a spatula to fold, and ensuring that no dry spots remain.
4. Cover the batter with plastic wrap and set aside in a warm place for about 30-45 min to rise (or until batter has doubled in size). (Since it is winter, the room temperature is not as warm as it should be for the dough to rise. So, I turned my oven on to 200F and placed the bowl on top of the stove, near the front.) The texture of the dough will be sticky, like glue, and very elastic.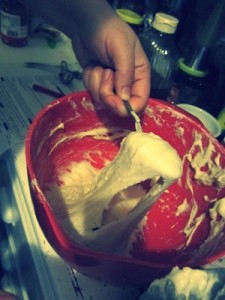 5. Prepare the syrup while the batter is rising. Combine the honey, water, lemon juice, and lemon zest in a small saucepan. Cook over medium heat, stirring occasionally until boiling. Continue boiling until it has reduced by a fourth, about 10-15 minutes. Keep warm on low.
6. When the batter is about double in size, heat the 2 cups oil in a saucepan or deep frying pan until very hot but not smoking (about 350F). A good way to test if the oil is done is to drop a piece of dough about the size of a dime into the oil. If it floats to the top right away, it is ready. If it stays at the bottom and bubbles, the oil is not hot enough.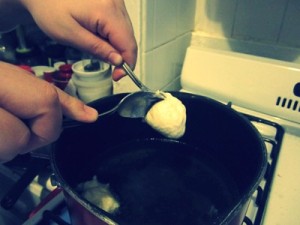 7. Using two spoons, carefully drop about a teaspoon full of batter for each puff into the hot oil. Turn the puffs using a slotted spoon and fry until golden brown on each side, about 3 minutes each. Remove the puffs to a plate lined with paper toweling to absorb excess oil.
**8. Put a few puffs into a medium bowl and drizzle some syrup over them, tossing them to coat. Transfer to a serving plate. Sprinkle with cinnamon, ground walnuts, and/or lemon zest.
9. Enjoy immediately. Feel free to consume with hands, and have someone else lick the syrup off your finger(s), or any other body part it may happen to drip.
Happy Valentine's Day!
**Do not toss all of the puffs with the honey. Only toss what you will serve/eat.  They're only good if they've been freshly tossed.  Store extra puffs in an airtight container, up to 2 days. The honey can be warmed up for a few seconds in the microwave or in a saucepan.