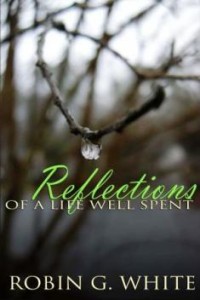 Award-winning author, Robin G. White released her long awaited second collection of poetry, Reflections of a Life Well Spent (Sunset Pointe Press) on April 30th, 2012. This collection is the first release of her work since the award-winning Resurrection: A Collection of Work was released over a decade ago.
Reflections of a Life Well Spent focuses on an emotional three-year period of the author's life following her through the end of her long-term relationship, break-up of her family, joblessness, homelessness, and the death of her birthparents shortly after finding them after a 40-plus year search. And while the reader may expect to find bitterness and despair among the pages, White expresses the numerous losses with candor and grace, arching each challenge with faith, love and a tremendous amount of hope. She dives into raw emotion, searching not for answers, but for the lessons that each challenge might bring. The poems become touchstones for her readers who relate to the themes of loss and resolution.
When asked why this collection is important to her, Bobbie stated:
Reflections of a Life Well Spent is about transformation. When faced with adversity, loss, challenge we can either grab hold of it and despair or grab hold of it and see possibility. I saw my losses… as a rare opportunity to start with a completely blank canvass and paint the picture, live the life I was intended and ordained to live… This work, like me, is full of hope, tremendous faith and a great capacity to love with gratitude in all things, all circumstances.
Preview her work at her personal blog: http://www.omphaloskepsisbybobbie.blogspot.com/
For bookings contact company representative, Nathalie Hills at Nathalie@winnmarkpublishinggroup.com. For more information about the author, email info@robingwhite.com.
Reflections of a Life Well Spent is available at Amazon.com, Barnes and Nobles, local bookstores and will be available viawww.robingwhite.com and www.sunsetpointepress.com.