Recently, Sandra Valls spoke with SisterTalk radio about the Lezberados comedy show. The lesbian Latina comedian talked about motherhood, marriage, and, of course, the comedy tour of Valls, Belinda Carroll, and Mimi Gonzalez.
Lezeberados, a fierce and funny, hot and spicy, side splitting comedy show, was created to "empower and enlighten and entertain people," showing pride in lesbian identity while making a difference in people's lives through comedy. Valls emphasizes that there is a cause behind the comedy; she and the comedians she works with want to give support and encouragement to  LGBT people.
Valls has received extensive recognition for her comedic work. Named one of Curve magazine's top ten funniest lesbian comics, Valls has had two Showtime comedy specials and has appeared on a number of networks. Valls is also a published author and actress. She supports many issues that intersect with LGBT rights, participating in fundraisers for sobriety, domestic violence prevention, and AIDS. 
In Butch Talk, Valls gives straight men advice on pleasing a woman in bed, teaching them how to "make it so she doesn't have to fake it." Valls does not hold back in her comedy, talking openly about being a Latina lesbian and engaging playfully with her audience.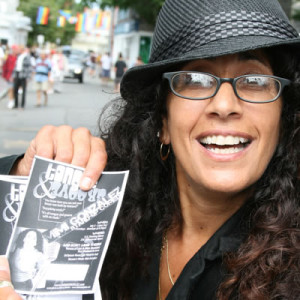 Mimi Gonzalez  is a writer and comedian who has appeared on the Today show and Ellen. Gonzalez has a degree in journalism, and in her writing, she tackles a range of subjects, including equality, race, and gender. She has participated in a number of Prides and has even gone overseas to entertain U.S. troops.
Like Valls, Gonzalez holds nothing back in her comedy. In a booming voice, she talks about lesbian sex and her love for femmes. Comparing New York and LA, she imagines the two cities as two girlfriends you could have: New York a "nasty" Puerto Rican girl and LA a blonde girl who has nothing to say.
Mimi and Sanda hold no punches when it comes to delivering jokes tied to their cultural heritage. But bringing light to gender issues during the tour is Belinda Carroll, a self-identified femme lesbian, and a writer, singer, and comedian.
Belinda has worked with a number of comedians throughout her career since 2002, and has teamed up with Gonzalez and Valls just for Lezberados. In her comedy, Carroll talks about how she will never earn her "dyke card," since she doesn't own power tools or know how to change her own oil. She compares her complicated sex life to soccer: "nobody knows what the fuck is going on until I score," and even performs a song — an ode to Rachel Maddow.
Though Gonzalez, Valls, and Carroll intend for their performances to make audiences laugh, these funny lesbians are undoubtedly doing some serious, important work, bringing to light serious issues that impact the lives of queer women of color, and raising visibility for queer Latinas everywhere.
For more information, visit the official LEZBERADOS Facebook page.