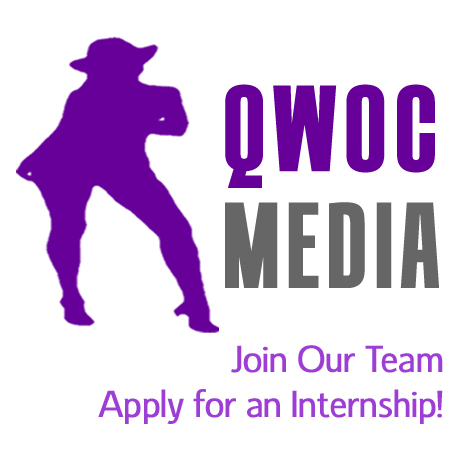 Have you ever wanted to work for a QPOC (queer people of color) organization? Well, look no further! Queer Women of Color Media (QWOC Media) Seeks a Marketing Communication Intern
About Us
Queer Women of Color and Friends (QWOC+) is a grassroots organization and media collective media collective that amplifies Lesbian, Bisexual, Queer, Transgender women of color, immigrant and/or diaspora voices.  As a media collective focused on increasing diversity, gender equality, and international awareness, our work highlights voices often missing from mainstream conversations about gender, race, sexuality, and class. Our motto here: diversity speaks. Visit us at www.qwoc.org.
Summary
Queer Women of Color and Friends (QWOC+) is seeking a talented Communications Intern for Spring/Summer 2012 (May — August). Internships are based in Boston, M.A., and require a minimum commitment of 15-20 hours per week. Start and end dates are flexible.
Interns will work closely with the Executive Director and Editorial Board, supporting broad communications needs. Responsibilities will include: media tracking and list-building; drafting and publishing a weekly e-newsletter, press releases, graphic design and online communications projects; research and drafting communications materials — including banners, fliers, and marketing materials — to promote and coordinate national QWOC Week; organizing and archiving media content; other tasks as required.
Experience with blogging, and organizing around women's, LGBT, and race/ethnicity issues is a must. Basic familiarity with e-marketing tools such as Constant Contact, MailChimp, and Vertical Response a plus, but not required.
Applicants from all majors and/or variety of disciplines welcome to apply, but preference will be given to applicants with a strong experiential background in writing, communications, media relations, and/or branding.
Interns will be encouraged to attend workshops, lectures and other related events in the M.A. area. QWOC+ is unable to offer financial support for interns; however, interns may receive academic credit for their internship with the cooperation from their college or university.
Summary of Qualifications:
Demonstrated interest in LGBTQ and/or people of color media and movement-building

Experience writing and organizing around women's, LGBT, and race/ethnicity issues is a must

Experience with Adobe Photoshop, In Design, other creative design suites is a plus

Self-motivated, proactive learner with a strong entrepreneurial spirit

Able to work independently while keeping the mission and goal of the organization in mind

Beyond excellent writing, editing, and formatting skills

Able to coordinate retrieving, analyzing, simplifying, and communicating large amounts of data and information to wide variety of audiences

Must be able to meet frequent, recurring, hard deadlines

Basic familiarity with e-marketing tools such as Constant Contact, MailChimp, and Vertical Response a plus, but not required.

Familiarity with new media concepts a plus (but not required) e.g. two-way engagement, analytics/measurement, etc.
Compensation:
Internship positions are unpaid (in fact, all positions at QWOC are unpaid— we're a grassroots organization that has grown nationally due to the dedication and commitment of volunteers).
Additional Information
If you're interested in applying to either of these positions, please send us your resume, cover letter, a short writing sample (something you've written for school or work or an online publication — something from your own blog is fine too), and a design project you've produced (e.g. a web flier, website banner, formatted newsletter etc). 

Clearly include the following information in your cover letter (or we won't read/respond to your application):
First and Last Name

Name of Educational Institution (if applicable)

Contact Info (Email and Phone Number)

How did you hear about this internship opportunity?

Can your internship hours count towards college credit? (not required, but preferred)

How do you identify with the LGBTQ women of color community? (e.g. I am a transgender Asian guy, I am a bisexual activist from Barbados, I am an African-American lesbian parent, I am a white ally who identifies as queer etc.)

What parts of your personality would make you an invaluable communications intern?

What would you say are the top 5 essential elements of an organizational newsletter?
Please respond to each of these questions in 4 sentences or less. This isn't a college essay — we just wanna gauge your level of specific interest and fit for our company.

Statement on Diversity: As a qwoc-led startup media organization, we are committed to maintaining diversity in our leadership, staff, and strategies for community engagement. Women, people of color, people who are not from the US, and LGBTQ people (including gender non-conforming and transgender people) are all encouraged to apply.
Internship Application Deadline: Monday, May 25th, 2012