[pullquote2 align="left" variation="purple" textColor="#000000″]"I've dedicated my life to telling stories of LGBT Africa, to support people to tell their stories."[/pullquote2]
QWOC Media Wire recently chatted with Selly Thiam, Executive Director of None on Record, an organization that collects oral histories to brings visibility to LGBTQ Africans, about media, activism and their newly released video series with public television show AfroPop, Seeking Asylum.
AfroPop is a web series that "celebrates the cultural and historical growth of Africa through films tailored to a world audience from insightful, artful and often unique local perspectives." The Seeking Asylum series depicts the triumphs and struggles faced by four LGBTI Africans who leave their home countries to claim asylum in the United Kingdom. The first of the video series is already online (video below) with the other three being released every week on AfroPop until February.
Seeking Asylum will also be part of a larger multi-media exhibit at New York's Museum for Women's Resistance from February 15-March 15, and included in the PBS Online Film Festival on PBS.org from March 4th.
When asked about partnering with AfroPop, Selly explained, "I wanted to make sure the media was really share-able, it could live online, it could be done in all these different ways, people could watch it on their phone." Furthermore, "AfroPop focuses on stories from the African Diaspora, which is also a good meeting place for what it is that we are doing. And it also creates an opportunity to include LGBT stories."
Selly hopes that the partnership will open up conversations with a wider audience, including [Africans] who identify as LGBT, or allies, and even those against homosexuality. "Their reactions to these pieces are important as well because that's where a lot of the transformative work actually happens."
The series' highlighting of the experiences of sexual minorities–within the already complex landscape of mass migration to and from the African continent–and in the particular case of asylum, will no doubt appeal to a wide range of audiences. "I think that the experience that was documented with this particular series is an African experience, it's an experience of immigration, it's an experience around colonization in a lot of ways– of class."
Selly also talked about how important spaces like QWOC Media Wire are for her work as a media producer. "When you have more progressive media platforms, distribution platforms, like QWOC Media Wire, it creates an opportunity for more stories to be told that often times do get ignored, which I think is what is the power of people from community creating spaces–media spaces, themselves."
The individuals profiled in the Seeking Asylum series come from a diversity of cultural backgrounds and experiences, offering a refreshing take on homophobia on the African continent, which has more recently focused on countries such as Uganda and South Africa. Says Thiam, "We were trying to create a diverse archive. To do that you have to be able to speak to everyone, as much as you can."
[pullquote2 align="center" variation="purple" textColor="#000000″]"We're actually just starting to become the impactful organization…that we had envisioned."[/pullquote2]
Seeking Asylum tells stories of both LGBTQ activists and ordinary people leading revolutionary lives simply by choosing to survive. "Sometimes people think it takes a famous person to speak out," she says, "… a lot of the people I interview in my mind are activists, even though they would never describe themselves in that way. I think it's because the act of speaking is such a political statement." She believes that by bringing the stories of everyday LGBT Africans to the forefront, "It demystifies the idea that in order to do these things, in order to speak out you have to be this activist who's wearing it on their chest."
As for what people can do to support the project, the producers insist "views" and "shares" are critical to the project's success. "Just share! Share the stories with other people, create a conversation around the stories, write to us and ask us questions so that we can also figure out how to create conversations around the stories."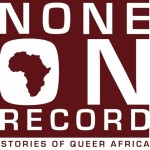 None on Record is also currently seeking to fill internship positions (including job vacancies in Nairobi, Kenya), and accepting donations via their website. Says Selly, "The more support that we get for each piece of media we put out makes us able to create more. These spaces are really important and have to be supported and kept alive."
To learn more about None on Record and future projects, visit their website at www.noneonrecord.com.
Written by Breanne Harris, Edited and Spectra Speaks. Photos from None on Record.