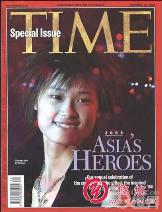 Li Yuchun, originating from the province of Sichuan, is one of the few Chinese to have appeared on the cover of Time Magazine. She garnered her claim to fame in 2005 by winning a popular Chinese singing competition called Mongolian Cow Sour Yoghurt Super Girl's Voice.
So, what was so special about a then-21-year-old woman that caused her fame to explode? It wasn't that she had a particularly great voice, or that she was a particularly great dancer. Her lack of talent in these areas demonstrated that she won based purely on popularity, if nothing else. In fact, what truly stood out about her was that she won based on how different she was from the traditional contestants that compete in Super Girl's Voice
Specifically, she has a deep, resonant voice, a David Bowie-esq  haircut (circa his Space Oddity days), a makeup-free façade, and a wardrobe of long pants and a button-downs. Essentially, she broke every standard of what it meant to be a "girl" or feminine in China.
Ironically, instead of hurting her chances at success, these factors seemed to have helped her. She managed to attract the attention and votes of over 3.5 million viewers during the competition's finale, and was elevated to iconic status as one of the first visibly gender queer people to reach such a level of celebrity.
Times Magazine used the caption "Asia's Hereos" under her cover portrait in 2005, and China Daily called her "China's role model."
[pullquote3 align="center"]Through her strong presence in the media, [Li Yuchen's] androgyny has come to represent the face of the 21st century queer woman.[/pullquote3]
Although Li Yuchun has never explicitly defined her sexuality,  she is the first famous androgynous female of China in the modern world. Her "birth" in the entertainment industry led to the rise of more androgynous female artists, such as Zhang Yunjin a famous Taiwanese singer and Chinese singer/songwriter Zhou Bichang.
The success of androgynous personalities is remarkable because prior to Li Yuchun's rise to superstardom only traditionally feminine women were in the public eye. There is no denying the impact she's had in reshaping the level of acceptance for gender queer individuals and masculine-presenting women. The self- confidence that helped lead to her success sends an important message to the queer youth in the country: you can be celebrated for being yourself, even if that identity opposes convention.
As a queer woman living in China, I can say that her bravery to adhere to her identity as a masculine female artist has inspired not only fellow artists  to follow in her footsteps, but also everyday individuals. Since her emergence on screen, I have seen many more masculine presenting woman on the streets of China than in the past . Almost as if,  just like Li Yuchun, they too dared to be unafraid.
In this way, Li Yuchun has undoubtedly opened China's eyes to queer youth and in doing so demonstrated the power of media in redefining modern culture.
Who were your role models growing up? Who are they now? Are there any inspiring queer women of color appearing in popular media outlets in your home country?