We're film buffs here at QWOC Media Wire, especially about films that highlight voices which are often missing from the mainstream. Incidentally, we recently published a call for submissions from queer and/or LGBT muslims for an upcoming blog series, and figured — just because — we'd highlight a few films we think everyone should know about, especially since they're readily available for purchase and/or viewing online.
So, read on. And don't worry; this post does not contain any spoilers.
[divider]
A Jihad for Love (2007) was the first and only documentary featuring queer Muslims in Islamic countries. The film features the lives of two couples, an openly lesbian couple from Turkey, and an Egyptian couple, who keep their love secret from both their family and society. A Jihad for Love tells the story of everyday Muslims, how they reconcile their homosexuality with Islam and the internalized guilt that society has left them to. The film also highlights viewpoints of those who have accepted both Islam and homosexuality, interviewing a gay imam who interprets the Qur'an to be more accepting than it's often made out to be.
The documentary was filmed in nine languages, including Arabic, Farsi, English, and French. The director, Parvez Sharma, is New-York based gay Muslim filmmaker from India. His film won the GLAAD Media Award for Best Documentary in 2009, along with several other prestigious international awards.
To quote Sharma, "We tend to assume the Western model of this GLBTQ identity. Unless there's a pride parade you're not really free. These ideas are way more complicated than that. Sexuality is so complex in Eastern and Islamic cultures."
The film has been officially banned by the government in a number of developing countries, including Singapore, and, in some cases, banned by the religious leaders of several Muslim communities. This "ban" on Muslims attending, as with banned books in the US, unsurprisingly caused an exceptional number of Muslims to choose to view it, at least in South Africa.
You can purchase the film online at amazon.com
[divider]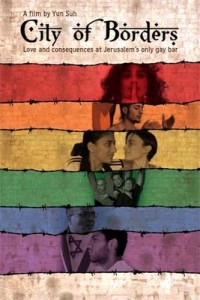 City of Borders (2009), a film by South Korean writer, director, producer, Yun Suh, goes inside the vibrant community at the only gay bar in Jerusalem where people of opposing nationalities, religions and sexual orientations create a sanctuary among people typically viewed as each other's "enemy." The documentary intimately portrays the daily lives of the Israeli bar owner and four Israeli and Palestinian patrons as they navigate the minefield of politics, religion and discrimination to live and love openly.
"When I read in the bible that I could be killed for being gay, I understood what it was like to be Palestinian." – Israeli bar owner.
Set against the construction of the separation wall between Israel and the Palestinian territories and the struggle for a gay pride parade in Jerusalem, these five inter-woven stories reveal the contradictions and complexities in the struggle for acceptance. In observing the lives of the bar regulars, this original and poignant documentary explores the bonds forged when people from warring worlds embrace what everyone shares in common—the right to be accepted and belong—rather than be defined, or divided by their differences.
You can purchase the film online at www.cityofborders.com
[divider]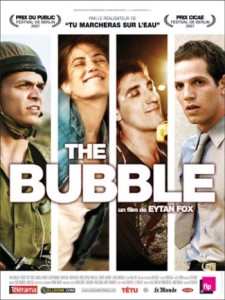 While The Bubble (2006) tells the love story of two gay men, an Israeli Jew and a Palestinian Muslim, it showcases the conditions and provides clear context of two identities of one individual in conflict. What happens when someone from an occupied country that does not accept homosexuality, interacts with his occupier, which is more accepting of his gay identity but completely suppressant of his identity as a Muslim Palestinian? How do our identities interact with one another, form our loves and relationships? This is what the director, Eytan Fox, chooses to create.
The title, The Bubble, a metaphor for Tel Aviv, is in the words of Fox, "delicate and fragile – a naive concoction whose sole purpose is to keep the harsh reality of life in the middle of a war zone well to the periphery. Yet every now and then reality sticks a pin through the bubble, quickly reminding everyone that life outside isn't as simple and ideal as it is inside."
Fox describes his film as "a tribute to these young people who are huddled together inside, trying to make better lives for themselves amid centuries of anger, war, and death."
The great news is that you don't have to purchase this film if you own a Netflix streaming account. Watch it for free (sorta)!
[divider]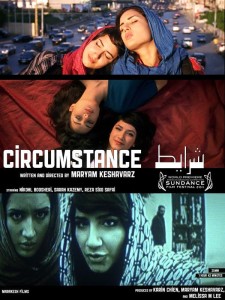 Circumstance (2011), written and directed by Maryam Keshavarz, an Iranian-American filmmaker,  tells the beautifully sad tale of Muslim lesbian lovers in Iran coming to terms with their circumstances — family, religion, politics, and love. The film premiered in 2011 at the Sundance Film Festival, winning the Audience Award. It takes place in Tehran but was filmed in Lebanon, presumable since Iran — though progressive on transgender issues —  is generally intolerant of its LGBT citizens. Even so, the director, Ms. Maryam Keshavarz, needed to have a fake script in order to have it approved by Lebanon's censorship board.
As Gender Across Borders notes, "Because of the dangers faced by LGB Iranians who come out, the bulk of queer Iranian visibility remains in the diaspora. The fact that it was made outside of Iran by diasporic artists allows Circumstance to explore the topics of homosexuality, religion and politics honestly, without fear of punishment by the Iranian government."
According to Keshavarz, "The beginning of the film is dolly shots, airy, space, freedom on some level, and then as the film continues it becomes dark, claustrophobic, there are no more dolly shots, it's more handheld, its more menacing on some level." According to the New York Times, ""Circumstance" ripples with the indignant energy of youthful rebellion," humble praise for a film that was ranked one of the 50 best movies of 2011 by Paste Magazine.
You can purchase your copy of the Circumstance DVD on Amazon.com
[divider]
Have you seen any or all of these films? What did you think? What films — whether feature-length or short — should be added to this list?
We'd love to get your recommendations, especially for films that prominently feature narratives of women and gender non-conforming Muslims. Please leave your suggestions, thoughts, and reactions in the comments section below!